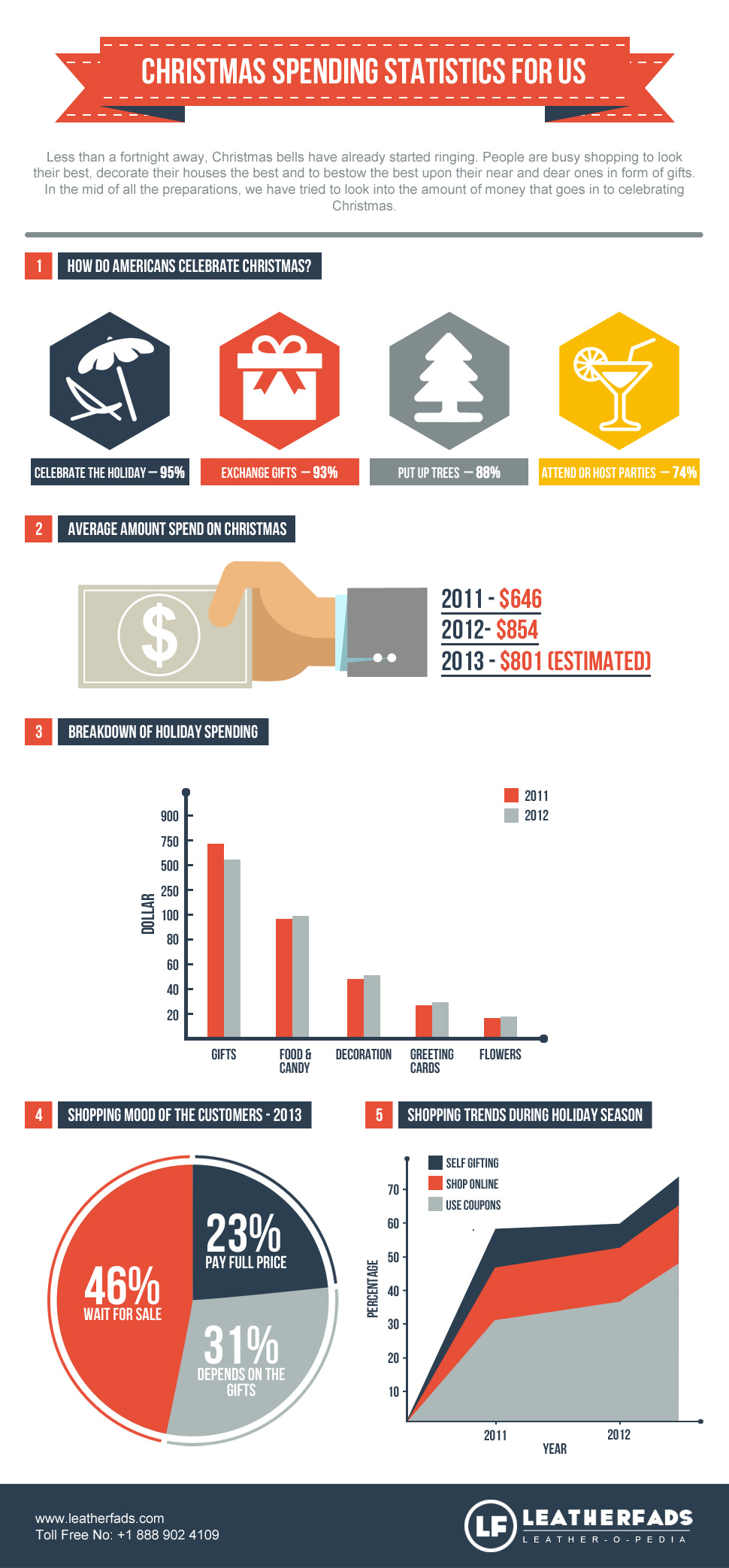 An info graphic representation of what and where the average American spends his money on Christmas season. It also gauges the mood, shopping trends and most popular gifts that are requested during Christmas.
Less than a fortnight away, Christmas bells have already started ringing. People are busy shopping to look their best, decorate their houses the best and to bestow the best upon their near and dear ones in form of gifts.
In the mid of all the preparations, we have tried to look into the amount of money that goes in to celebrating Christmas.
How do Americans Celebrate Christmas?
Celebrate the Holiday – 95%
Exchange Gifts – 93%
Put Up Trees – 88%
Attend or Host Parties – 74%
Average Amount Spend on Christmas
2013 – $801 (Estimated)
2012- $854
2011 – $646
Breakdown of Holiday Spending
| | | |
| --- | --- | --- |
| | 2012 | 2011 |
| Gifts | $548.56 | $704.18 |
| Food and Candy | $100.76 | $96.75 |
| Decoration | $51.99 | $46.73 |
| Greeting Cards | $28.99 | $26.52 |
| Flowers | $19.55 | $18.23 |
Shopping Mood of the customers – 2013
Pay Full Price – 23%
Wait for Sale – 46%
Depends on the gifts – 31%
Shopping Trends during Holiday Season
| | | |
| --- | --- | --- |
| | 2012 | 2011 |
| Self gifting | 59.9% | 59% |
| Shop Online | 51.8% | 46.7% |
| Coupons | 35.9% | 31.5% |