The lush piece of leather skirt is becoming a new classic these days. Matching the footsteps of the little black dress, this is popping up in almost every style-maker's closet. Thanks to the recent variety of styles, right from pencil to A-line, one can wear this skirt at any occasion.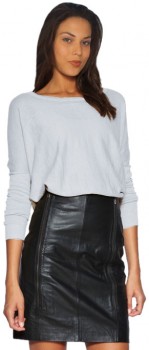 Slender and simply stylish
The leather skirt is one ideal attire to wear at the workplace, as far as its sex appeal is a bit toned-down. Women can try adding feminine and chic pieces such as blazer over a leather skirt silhouette. A buttoned-up blouse with some ruffles or a lace feature on it can keep the leather skirt from looking too casual. You can even come up with a trench coat, which could take your skirt from fall to spring. Add tights with some interesting pattern to provide you more warmth.
Leather miniskirts are extremely popular with teenage girls. It is very important to maintain your figure well to be able to carry this kind of styles. You will come across diverse sorts of miniskirts like those with flare, low rise and in pleated forms. Girls who wish to show off their curves can pick any of these. Moreover, those who want to conceal all the body flaws, can opt for a pleated skirt.
Then you have pencil skirts, which has been in vogue since many decades. This falls till the knee length or could be longer than the knee. A tight fitted skirt looks fabulous on women who have a figure to die for. To complete the look, throw a jacket over this skirt to make it a perfect office wear.
The other chic pick is pleated skirts, which come in all sizes and end below the knee. Wear them at college or for an evening out or dinner date. This skirt when paired with an attractive top and a pair of shoes can truly take you to another level.
One easy way to wear this is to tuck the shirt in. You can even consider adding a few accessories. Necklace adds a personal flair whereas high-heeled shoes are more interesting as compared to those combat styled boots.
However, leather skirts are comparatively pricey;these last much longer and make a worthy investment. So the next time when you plan to shop for this leather piece, without thinking twice go for it. You will not find anything better or so luxurious than what a leather clothing provides you.