Fashion seekers looking out for latest piece of overcoat can opt for classic men's leather coat to get on the style and trend in you! Here is why this piece of outfit has become so popular.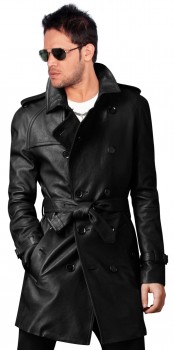 The way men's leather coat have been promoted earlier were not as much as it is being promoted in recent years, almost every designer is trying to know the fact that how leather coats has been the most preferred clothing attire by the fashion enthusiasts.  It is obvious that the rise in sales of this classic leather apparel have been just high because they are the perfect piece of clothing to dole out style as well as comfort in a single getup.
The growing aura and class these coats are just growing higher and higher these days. Fashion vistas are more into fetching this outfit for buying this outfit to get a new trend in their wardrobe. It is not only designed for men but has much more fabulous patterns for women who dare to wear something new from their regular outfit.
Some best features about this outfit that makes them so popular among leather fashion followers:-
Trend:
Leather from decades has been in trend and its timeless quality still keeps it among the top rated fashionable outfit.  With its amazing styles and cuts, anyone can easily match it up for any events.
Style:
If one opts to but the finest looking leather coast then there are massive styles to choose from. Almost every fashion designer has been trying harder to bring out something more classy and stylish patterns to amaze the buyer.  This is definitely out of such kind that would stay appealing in the market for big time.
Tough Quality:
The greatest reason for as to why this leather has gained these many accolades in recent years is just because of its touch quality nature. This lavishing material is extremely durable which guarantees perfect sense of value for money which buyers spend out. No matter how much pricey these overcoats would be, the touch quality of leather automatically upgrades the appearance and style of the outfit.
Extreme Comfort:
The finest crafted style and super- soft texture of leather makes this coat completely comfortable wear. It's generally worn in winter, but these days some fabric blend leather materials can also be used in other seasons.
So, if you are among those people who love making strong fashioning statement then this would really be the pick of your choice!