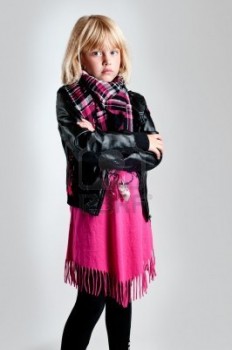 Gone are the days when winter used to mean that kids remain indoors wrapped in the quilts and blankets. Thanks to the fashion industry, today children step out making style statement braving the chilly winters.
Winters are approaching and like every mother you want that your child be safe from the chilly winters. What you do? Wrap him in bundle of warm clothing and confined them indoors? This is not the solution. For how long would this confinement continue? Instead buy them leather jackets which would not only give them the much required warmth but also make them look just fabulous.
There has been an increasing demand for kids' leather jackets since long. Not only parents but kids- both girls and boys have shown their liking for this amazing attire. Investing in a leather jacket would never disappoint you. Though the bikers and pop culture fanatics' attire, the leather clothing has made successful entry in every culture and generation.
Made from goat's skin, lamb skin, pig' skin, these leather jackets are available in amazing designs and patterns. Maintenance could be an issue with kids, but to add to your knowledge, the leather jackets are so easy to maintain and are quite tough to bear the seasonal roughness. You could even go for stain free leather jacket for your kids which would relive you of the tension of cleaning the jacket.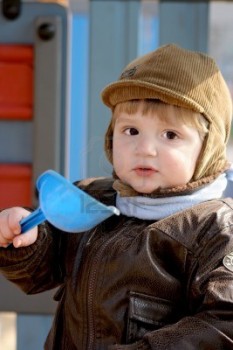 Hook – a- hood style is a rage among kids. It allows them to take off the hood as and when required. The fur jackets, leather jackets with ruffle neck are quite liked by girls. It gives them so feminine look and makes you look so classy and stylish. Keeping the accessories to the minimal your child could be the talking point. No wonders, why Suri Cruise is the most glamorous and stylishly designed celebrity kids worldwide.
For some who are living in extreme temperatures where the mercury dips to minus Sherpa leather jackets would work well.  The Sherpa wool linings are super warm and are specifically designed for cold weather. These leather jackets not only shield your child against the cold waves but also make them look glam. A variety of colors they are available in also make the kids' fall for them. The bright pinks, blues, purple; greens make them well matched with their favorite dresses.
Boost up their confidence and let them rule the hearts of the World. Get them a nice leather jacket today and keep them warm and also give them that stunning look. You could shop online or could even visit exclusive stores. Here's a piece of advice: do not fall for the cheap ones. Leather is a onetime investment so invest judiciously and gift them clothing which they would cherish for long.