Whenever you sport a woman in leather jacket, you instantly know that she knows fashion.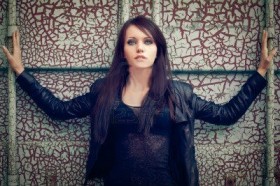 The dateless leather clothing has a diehard fan in a woman who is just crazy about it. Who own it feel proud and know that others are envious of them. But there are many who long for them and know that it is a must to have for every closet. It is true that they are a little pricey attire but if you look at the various features and the amazing looks which you could create with women's leather jackets you would know that they are worth an investment to make.
Once bought, it will be there for you as a trustworthy ally in all your fashionable looks. No matter what the occasion is you would surely turn around eyes whenever you don the leather jacket. Leather jackets when complemented with tight fitted jeans are the best combination that could be worked upon. But it would look equally good when you pair them up with a blouse and dress slacks. Scarves add sophistication to the leather jackets. Pair them with the matching boots and you are ready to adorn that edgy look. When worn over a sleek party dress, the leather jacket would win you many compliments from everyone. And yes, there are not only black or brown leather jackets but there are other color options like tan, white, beige, oxblood.
So if you are convinced to make a buy the first thing you to consider is budget. Never buy just any leather jacket because it is affordable. Do not ever compromise on the genuine quality and the fit. A sale is undoubtedly alluring but the jacket you purchase on sale could turn out to be a very poor investment if it doesn't fit you well. Consider whenever you would look at the jacket; you would only be regretting the time you made the purchase. And also you would have to spend more money on buying it again. So it is wise if you spend a little more money for the first time only and get a good fitted women's leather jacket.
But thanks to the manufacturers and the fashion designers who noticed the craze and brought out many styles and cuts in leather jackets. Today you could find one well fitted jackets for you in the departmental stores, online stores, exclusive leather showrooms and small boutique retailers. Whichever be your mode of purchase make sure you do not make budget the only criteria but give fit the most important consideration.
But when it comes to accessories, the minimalist approach works the best. The leather jackets are so stylish that it should be the focal point in your ensemble and not the other accessories.