Green is a Fashion That Will Never Fade
The color green has been in vogue since many ages. This not just enhances your entire appearance but at the same time makes you look more elegant.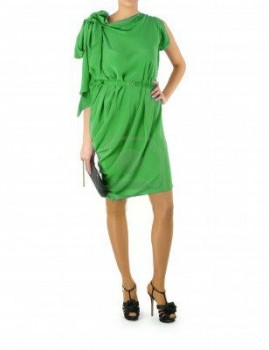 Very importantly, green is the hot pick; be it any season. As in the summer time, it soothes your eyes whereas in the chilled winter season it gives a warm effect to your whole look. Looking at the popularity of this color, the top fashion designers too have begun to experiment with this evergreen shade. Today a funky green color dress portrays the little black one piece dress that has been considered as a must have in a woman's closet. Numerous shades of green such as emerald, bottle green, and ocean green and mint green are seen to rule the hearts of many women. These colors are extremely popular and they are an ideal match for your stone accessories or jewelries. If it's an evening party or a beach jamboree, green can be the best hint of color for everything. Apart from this, the hue green helps in accentuating the good looking features of your face as well. Nevertheless, when it comes to pick jewelry, play it safe or else it might perhaps spoil your entire look. As the color in itself turns out to be a vibrant color, do not commit the mistake of combining stunning jewelry with any of these. Points to ponder Silver accessories are seen to be one of the ideal matches for the outfits which come in light green shades. If your dress is bit embellished with golden or silver embroidery then it is better that you keep away the jewelry or to a certain extent keep it minimal. Golden jewelry blends well with dark green attires. So buy accessories by keeping in mind the quality of the fabric. If the fabric is a shiny one then wear matte gold jewelries and so on. When it comes to footwear, bags and other accessories, choose those which go well with your green ensemble. If in case you go wrong over here, then see to it that you pick simple stuffs and not the jazzy ones which could overpower your look. While you experiment with green think about your skin tone too. At times, green does not go well with fair skin so try a complexion test first and then pick your shade. Whatever kind of dress you pick, bear in mind that it must be in sync with your hair color too. Keep the makeup light and neutral.