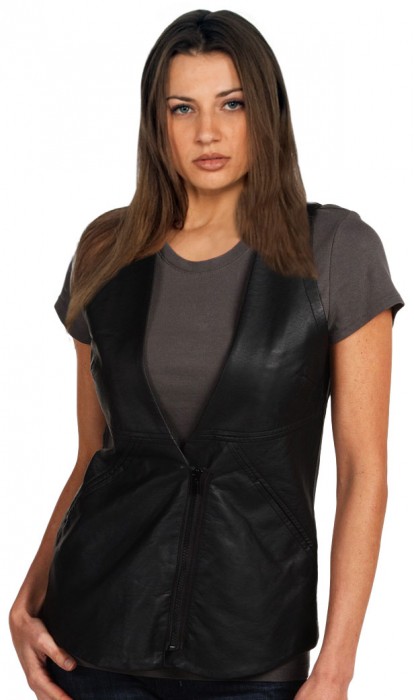 Vest is a highly versatile outfit worn by a huge number of women all across the globe. However, styling up your vest with some cool ideas is sure to give you a timeless look.
Whether you own a decorated or plain vest and you wish to sport it on a daily basis at any time of the day, here are awesome and cool ideas to help you to style up your appearance. Further, the versatility of leather vest is undeniable. Even celebrities love these and many of them have been spotted wearing these attires on various casual and formal events.
For a plain black colored leather vest, you may deck it up with a vibrant looking belt as well as with comfortable fabrics underneath. You may get some inspirations from your favorite celebrity, who has a penchant for leather vests.
Absolute, hooked and laced leather vests are great for sporting in both summer as well as spring seasons. However, make sure to keep them light and well-ventilated by complementing the feminine aspect of your vest with a plain dress or top. Actress Elena Furiase once wore a laced vest of light pink color and she complemented it with a crew-neck t-shirt to get a chic and laid-back look.
Further, you may clinch your inner eccentricity and pair a beaded vest with some cool and funky designer jewelry. Beaded vests are available in a range of colors. If looking for a beaded vest that you can sport during any season, then it is advisable to go for the ones of warm shade such as sepia vest with brown and turquoise beads. Accessorize with an ethnic yet funky necklace to keep up with the charm.
For that next girl next-door look, consider having a denim vest. Here, you can blend the look with vibrant colored tees. This is just the perfect style for a party theme.
If you wish to get that edgy look, then leather vests are for you. These will certainly take your appearance to a completely new level. Consider buying a biker vest if you wish to head out for a night party with your loved one or friends. Further, keep your look simple with a black tee and sleek miniskirt and pants. Here, remember to keep the jewelry simple and avoid looking burnt.
So, live the red carpet world by styling up your vest with these above-mentioned ideas!