So if you spot someone walking down the street wearing a nice pair of leather pants which is truly amazing, then admit it.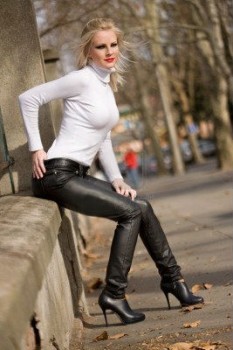 Well is it a man or woman; both fashion enthusiasts would surely go a bit ahead only to catch a glimpse of the wearer's face. This is what a leather pant is all about. You just cannot go wrong with it as this is one of the most stylish pieces of attire ever found to mankind.
Leather pants are myriad of nuances that are attached to it since the typical bold look to the more sophisticated one. It is everything about on how you carry yourself in a leather pant with its style and cut. The bold look has been in the fashion scenario for many decades from now and when it comes to Hollywood celeb fashion then it's surely not a new thing to become aware of. Women with a figure to die for are usually spotted in a tight leather trouser with blouse tops whereas men are more associated with the rugged biker look.
For women, a nice combo of sexy leather pant and skinny tops speaks volumes and sensuality. It is everything about the combination and how you blend it depending upon your taste and preference. You can even have a look at the huge range of formal and casual to more sassy collections in clothing.
There are some useful tips which must be borne in mind while you decide to wear leather pants. Fit and contrast are what determines the kind of message you wish to portray from your clothing. For instance, if you pick a leather pant with a slim fit style minus the pockets then it would definitely not give a formal look if you plan to wear it on a formal event. Leather is a genuine material and just acts as a second skin. It holds your body curves very close and gives you the desired effect.
Who needs pregnancy clothing when you are none other than Kim Kardarshian?  This Hollywood bombshell was recently spotted on an afternoon trip wearing a smoking hot leather pants. This 32 year old celeb kept all the things simple and sober without any flaws with her black outfit. The accessories which she matched were chunks of gold bracelets that blended well with her entire attire. The soon to become a mother hid her baby bump with a shirt tied around her waist.