A leather jumpsuit is a style that pretty much anyone can easily get right, but there are certain dos and don'ts about wearing the classic leather piece.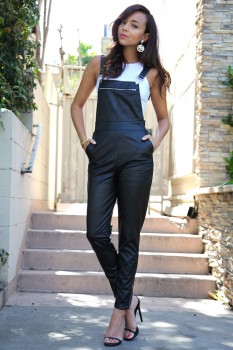 Ladies, are you looking out for some fashion advices on how to wear a leather jumpsuit? This disco staple clothing item of 70s, have now become a hot fashioning trend. Celebrities such as Paris Hilton and Kim Kardashian have been spotted many a times wearing stylish rompers and jumpsuits. Well, so if you want to be recognized as the replica of your loving celebs, there here are some great styling tips on how to wear jumpsuits gracefully.
The amazing fact about these leather clothing is that they come in many interesting styles. You can come across the full- length 70s style leather pantsuits, capri length jumpsuits, the romper styled ones etc. no matter what length or style you decide to pull over, always ensure that you belt it with cinch belt. This is the first rule that you need to note down about jumpsuits is that they can become a disaster if you do not know how to show off your own curves. While, wearing a cinch belt will prevent you from looking like a sewage worker.
Leather jumpsuits appear very stylish with boots. Accessorize your overall look with pumps and pair of matching clutch.  Don't be anxious to play around with your personal fashioning style. You can even try out wearing leather Capri length jumpsuit in black shade with or pinstripes. This can be accessorized with a cute fedora,hot pink cinch belt and pumps. Go for the one that complements your overall looks. Fashion is fun, and with classic leather jumpsuits, the possibilities are completely endless.
Well, when you pick a leather jumpsuit, they have a lot of different styles, colors and lengths.  From lighter color tones, brighter ones to the designed patterns, there are broad range of choices to pick from, but ensure that you can get a jumpsuit that you are comfortable in and the one that suits your personality.
Stick with the current trends when you are accessorizing with leather jumpsuits. However, leather itself can grab loads of attention, but still you can have minimal accessories to charm up your overall appearance.  For your hair, if you actually want to give your leather jumpsuit an edge, wear it up a ponytail.