A stylish leather pant is a closet staple of this spring. So, ensure that you embrace this season with a pair of chic leather pants that promises to give you a new dimension to your persona.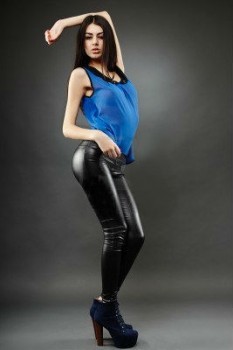 One of the reasons why women buy leather pants is to put an emphasis on their body and at the same time show off well-toned physique. In order to appear extremely hot in a smoking pair of leather pants, you must begin to try with the basics and learn how the body flaws can be avoided. So keep yourself updated with the recent trends that crop up every now and then in the fashion industry.
When you plan to buy hot leather pants, many women are hooked towards clean and sleeker lines. There might perhaps be an important occasion for leather pants that comes with exceptional features and details. You can pick the basic design for normal wear that have few adornment and minimal sized pockets. This can truly help to accentuate a woman's body.
One of the major mistakes of wearing leather pants is to avoid any kind of bulk. This is said because the texture of the leather clothing shows every bit of bulge. Many of the fashion designers make sure that the leather pants are made with low pockets in order to keep the lines clean. So is why many women instead of storing the leather pants, wear it very often as its serves its purpose in many more ways.
Hollywood celeb and everyone's heartthrob Eva Longoria was recently spotted wearing a classy pair of leather shorts in Cannes. The actress sported a smoking hot leather shorts in brown with a lace top which worked effortlessly well with the black jacket on top of it.
One of the best parts of donning leather pants is their versatility. The texture blends well with most fabrics where you can pick any kind of blouse or tank top in any suitable color. On the other hand, in order to avoid the tough biker look, you might avoid matching a leather pant with a jacket. Well in both ways, the effect is just irresistible.So the next time when there is any casual or formal event, ensure that you match it well in such a way that it becomes a style statement.
Last but not the least; one good benefit of these pants is that you can wear them with an array of belts. So go ahead and bring on the best in you.