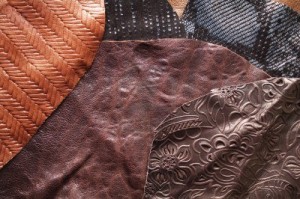 The laser cut detailing lends the fabric seduction; beauty and you look more sensuous and sexy. This year infuse the laser cut in leather and create that ultimate look.
The designers this year have preferred to go for all laser cut leather look in dresses, satchels and shoes. This intricate detailing on the already rich fabric gets a more coveted and distinguished look. Here's a list of spring 2013's style statement making leather pieces.
Versatile Satchel:  the laser cut detailing on the front flap adds much sophistication and beauty to the satchel. This highly versatile and practical edgy bag would surely make you fall for it and you would be eager to add it in your handbags list. Make your colleagues and friends envious.
Feline top:  add a touch of sensation by picking up the leopard pattern feline top. Keep the accessories to the minimal and your looks simple and streamlined. The top would do the talking alone. You just be ready for the numerous complements and even some jealous looks.
The tank:  They are a must to have in every woman' wardrobe and when it is crafted from faux leather, you would not take your eyes off.  Go for this soft tank which is so feminine in appearance and would complement your soft look well. The laser cut flowers would lend elegance to the tank
Mini dress: if budget is a constraint you could still follow this contemporary trend by going for a faux leather laser cut mini dress. You would be surprised that the outfit would well be in your budget and you could still manage to go all chic and highly urban.
Leather bracelets: studded laser cult leather bracelet would surely take your wardrobe to a whole new level and would look gorgeous with any ensemble. Go for double buckled piece which is slightly more in width. It would be attracting a lot of eyes for sure!! Wear them on sheer blouse or your lovely pencil skirt.
Leather earrings: yes, this year you might see a lot of your favorite celebrities flaunting a nice pair of earrings in laser cut leather panels. Interesting and unique they should find way in your wardrobe this spring.
Sheath: they are great way to show off you perfect figure in style. Short and sexy, the sheath dress fits in the body perfectly. A defined waistline is what makes this attire to be a perfect ensemble even for your wedding. Go for a longer sheath dress for your wedding. This year you could well go for intricately crafted laser cut leather when planning to hit the dance floor. It would be a perfect addition to your wardrobe for the holiday season.
Lacy laser cut panels: if you are planning to go all cool, the lacy laser cut panels would be fit your wardrobe. The raw and unfinished edges would create that sexy and edgy look for you. Team them up with terry jackets to complete the look.