Leather clothing beyond a doubt is one sexiest and at the same time a long lasting fabric that you can wear any time in any season.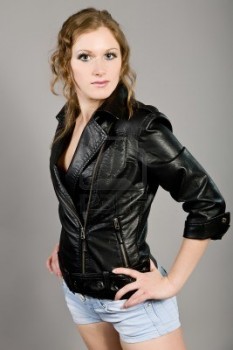 This makes it a worthy investment in both fashion sense and even at your pocket. Here is why you can make the most of leather clothing by not committing the common mistakes which are made by women.
Useful instructions
A leather dress is a must have in a woman's closet. So pick something which flatters your body figure in the best manner and even puts an emphasis on the best assets. Then there are even jackets, coats and pants and sexy skirts in leather material which come in every style and patterns. So just ensure that you have something which is extremely flattering and that too in the proper size.
The sizes in leather are more or less too small and this can even adhere to your body, this is why an ill fitting one is all the time a better option. You can even add a few accessories to it with the right kind of tops.
Choose the right time to wear leather garments. For instance, a cardigan best suits at the time of winter and not during summer when it's scorching heat outside. So make sure you look at the right time and pick your leather apparels accordingly. Come what may how good something looks good on you, if you have a tendency to sweat more and feel uncomfortable on a hot summer day then you must avoid wearing it. Get all your leather clothing for the winter season wherein you can take pleasure in appearing sharp and get advantage from the warmth of the fabric.
Do not wear too much leather at a single time as this can kill your look. Whether it's a biking trip or an outing, nothing looks better than a leather motocross jacket with a pant. Tone down the outfit well and don't go overboard.
Take utmost care of your leather by making use of good quality leather products that are easily available in stores. With proper care, you can add more life to your leather clothing. Leather makes an excellent investment and when maintained well can look very fresh and new.
When leather garments becomes too worn out then it is better to give them away. Very loose outfits will make you look dull. The stretched out buttons and zippers can lose its natural shape too.