Are you someone who is planning to buy a leather bomber jacket well you are not the first one to fall in awe of this genuine piece of leather clothing. Many men across the globe are seeking for one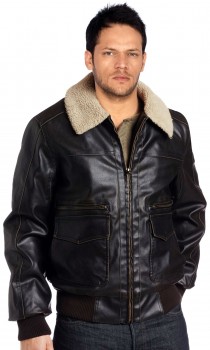 A few tips on how you can pick the ideal bomber jacket and where you can acquire it:
So you have found out the best leather bomber jacket for yourself. First and foremost you must take into consideration is to pick the right and genuine kind of leather material and also the ideal design for you. Most of these bomber jackets are made from good quality lambskin leather. So after you finalize your kind of bomber jacket the next thing is the price factor.
Well a leather bomber jacket might come at a big price but to the men over there who wish to add this amazing outfit in their closet you must be prepared to shell big bucks for this if you do not mind shelling much money on it. This kid of leather outfit for men surely makes a worthy investment where men can wear them at any formal or casual occasions.
A leather bomber jacket is usually built with genuine leather fabric which you can prefer wearing it anytime.  This outfit is worn with denim jeans and a classic white shirt. If it's a casual occasion then look for a nice pair of casual shoes or sneakers which can blend well with the bomber jacket.
The other details on the leather bomber jacket are the waistband and the knit cuffs with the snap down collar. This amazing detail proves best during the chilled weather conditions and keeps the cold at bay.
The bomber jacket comes with two front pockets where you can carry your important things with much safety. These pockets are even used to keep your hands warm.
With the above listed amazing features, it is very clear that a leather bomber jacket can make any man stand in the crowd and grab all the attention from the public. What could be the best way than wooing your woman in this stylish outfit?
No matter what aged man you are, the leather bomber jacket is something which continues to be a key piece of clothing that is worthy to make its place in the men's closet. This is one outfit that can be thrown on over any apparel to modify it in just few seconds i.e. smarten up the look whether it is casual or formal.