Leather capri pants are a definite style of pants designed for women who are a big fashion fanatic.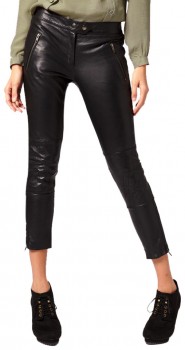 Leather carpi pants are normally worn as a casual bottom wear. These often serve as an option to shorts and also to full-length trousers and blend well with tops and coats or jackets. Few of the designers have successfully transformed the fashionable leather capri pants into a finely modified one, which are created to match well with any top or blouse when worn with it.  Capri pants made with leather make an excellent leisure and beachwear as well with added value as workout apparel.
They are designed such that it shows off the ankles and usually end mid-calf or just below it. There are latest capri pants added to in the fashionable collection that ends beneath the knee in few of the designs.
What to consider
Capri pants made form leather present a fashion challenge for few women. Petite ones at times claim that capris make them appear too short as the hemline can fall in the odd area i.e. between the bottom of the knee and mid-calf.  In order to avoid this problem, you can try out shopping for these in online stores too that offer array of collections and in many choices presented before you. This is one of its kind outfits for women, which provides endless benefits.
Leather capri pants have always been a trendy fashionable option, which can be worn in an array of ways. These pants drop at mid-calf in its place of stretching down till the ankles. Therefore, if you have even wished to sport a Capri pant but did not have any idea on how it is worn then it is the time to learn.  There are women of different body frames and shapes who can take the benefit of the versatile nature of these pants to its best.
The first thing that you need to do is pick the most flattering styles in leather capri pants. These are made with different measurements in order to accommodate women of every body type. Steer clear from wearing capri pants that does not reach till the mid-calf, as they look odd.
You can look for styles with flat panels than front ones. Large patterns are a big no-no as they only make you appear larger. It is not necessary to dress up in casual as leather capris can also be worn with a cardigan and a collared shirt to create a formal ensemble.