Leather chaps are created to provide safety for the legs and is often made with the genuine material that is leather.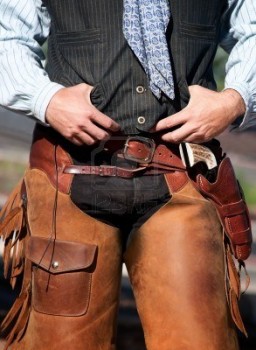 Leather chaps that consists a belt are tough coverings for the legs. These are fastened over the trousers with the belt incorporated in the leather chaps nevertheless dissimilar to pants these come minus the seat feature. It is more often than not associated with the cowboy traditions where the Americans began to use this kind of outfit whenever they went for a horse ride. Apart from this functional use, these are even seen as one fashion statement that men have been recently portraying on the fashion scenario. Leather chaps for men are slowly but surely becoming a part of the police force and this is the reason why many countries are now seen putting on leather chaps. These are used to shield themselves from the harsh weather conditions while riding the bike. This is one kind of leather apparel which is designed keeping in mind the desire of the wearer and seen the comfort which a man needs when he is on the bike. The benefits of wearing leather chaps
Leather comes in a thick and tough material and as a result such kind of leather chaps can save any man from harm like various injuries such as bruises and cuts during a bike accident.
Leather chaps are widely used by those men who are a big horse rider. All we can say is that this kind of outfit can lend a hand to the man wearer to make him move freely and this is the reason why they are seen as the best apparel which is flexible and meant for men as compared to other fabrics.
Unlike denim jeans pants, leather chaps have certain openings both at the back and front. Additionally to this, these are pierced with numerous holes which helps in providing the wearer proper ventilation during sweltering summer days.
While riding a bike, the legs are close to the bike's engine and this calls for wearing something at your lower body part. Leather chaps surely serve its purpose by protecting you from the warm blow of air. This at the same time even shields the clothes that you wear inside from bad wear and tear.
This leather apparel is something which can be worn by men throughout the year and if you maintain it well ten this outfit can last for many years to come.