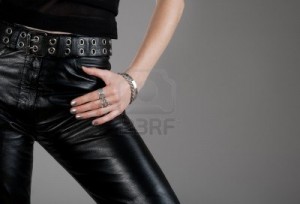 When it comes to add something trendy and chic to your wardrobe, leather dresses fit the bill unfailingly.
The rock and roll era was all about leather dresses.  Though the era long gone but leather has stayed to remain there forever as the hot favorite among men and women alike. With multitude of options available in color, style and pattern, you could wear them while hitting for a night out or going for college the next day. Let us peep into the various options which you could pile up in your closet and keep looking sexy and heartthrob of the gathering.
Leather pants – Flaunt your curves
This is the one attire which every woman must have. Not only for those who have got the perfect shape rather every woman could adorn it, the trick is the right selection. They would go well when you team them with tight fitted tops or tunics and club with high heels.
Leather Jackets – Adorn the sexy look
Properly fitted leather jackets would give you that perfect look to your shoulders. Do not choose a size bigger as it would give you a shabby look. Fitted leather jackets will go with jeans, trousers, skirts everything. Not only summers where they would give you a cool and relaxing feel you could as well wear them in the winters. Leather fur jackets are hot favorite during the winters as they would keep you warm and would also add to your beauty.
Leather Skirts – A must have
A woman's wardrobe would remain incomplete if the leather skirt is not there. It is perfect attire for every business woman as it would reflect her thorough professionalism and determination to work hard. Available in variety of colors, cuts and length every woman should have at least one leather skirt in her wardrobe. And after office when you are ready to hit the dance floor mix it up with some funky accessories and yes you are now ready to rock and roll baby.
Leather Jumpsuits – Get that sultry and sensuous look
All the adventurous women out there the jump suits are especially for you. Jumpsuits with high waistline would perfectly fit woman with slight extra fat deposition in the abdominal area. Halter style sleeveless leather jumpsuit would be just perfect for a rave party. Show off your clean shoulder cuts and back with this halter jumpsuit. Deep V-neckline jumpsuit would give that oomph factor and make you the talk of the town.
Go shopping to exclusive brand store or shop for them online. You could even wait for some end of the season sale to get a killer deal for you.