Since time immemorial women have longed to look her best. Leather halters are one such attire which lets woman show her feminine side but with elegance.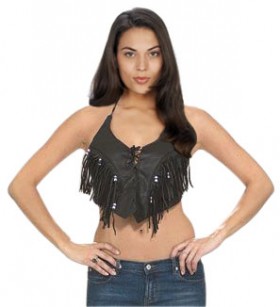 Leather halters have always remained to be a favorite pick of bold and beautiful women. And what is so special about the leather halters is that you show off your bare shoulders and back but there is nothing vulgar about it. With an added dose of feminine elements like lace fronts, braid detailing, tie ups the leather halters lend that oomph factor to the woman personality. Isn't this simply wow that you could show off your skin but without looking vulgar and cheap.
The leather halters available today come in a variety of styles like the neck closure, back or front zipper, deep V-neckline, strapless etc. But if you still want to go more bold with the look you could consider pairing them with a nice pair of leather shorts. The leather shorts are the perfect alluring match for the really sensuous and gorgeous leather halters. Consider this combination when you are in full mood to party hard with the friends and colleagues. And not only black you would get halters in other colors too. Gone are the days when these leather halters were only to be seen on the runways of the fashion shows or the Hollywood celebrities wore them.
The woman of today has incorporated this bold dressing in her daily wear too. The soft and supple leather halters come with lining which provides the extra comfort. Usually made from lambskin leather, you could get leather halters made from suede, cowhide or even buffalo hides. You are in so much love with the leather halter that you are thinking of wearing it to the office, well you can. Just wear a blazer but not in leather and well for bottoms trust denim pants. I am sure that the colleagues in the office will be spellbound with your beauty and style. But do not forget to wear pumps in matching colors.
I know that many of you might be surprised that these many looks could be created with leather halters. This is because for a very long time they were only considered to be a piece of clothing which you could wear in your bedroom to woo your man. But today you could find women wearing them on night outs, for a romantic dinner with the spouse and even to the office. So if you are a woman who is gifted with a good body and with right curves, do not hesitate to flaunt it in the ritzy and swanky leather halters.