Leather skirts are popular among girls of all ages because they provide a unique style that has dimension. Have a look on some stunning styles that you can try out for styling in your campus.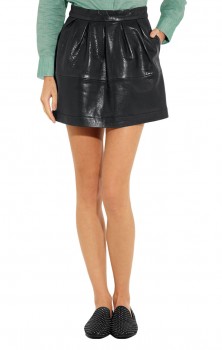 Leather skirts for Teenage girls can be a finest pick as they are usually conservative but still possess trend and style, which makes them look out in the crowd. This clothing has had such a massive impact that almost every girl is pouncing on the various new styles of skirts. Not just this, they are also willing to spend any amount to own this classic leather piece so that they can have an exclusively stylish piece in their wardrobe.
Well, if you are planning to buy a leather skirt for styling out in your campus then, here are some essential factors that you need to consider before buying this stunning leather piece.
Leather skirts online offers immense range of varieties that you will be surely mesmerize on what to choose and what to not.   However, while looking out for these skirts, firstly, consider its colors.  There is wide range of attracting colors from typical black to sophisticated white, sexy to tranquil blue, light tan and classic browns. You can pick the one that appeals you the most.
The next thing that you need to look upon is the cut and style of leather skirts. From miniskirts to pleated ones, feminine ones to pencil cuts, leather skirts add a perfect styling edge to every girl's wardrobe.  You can team it up with cozy staples for an effortlessly modish appeal, or amp up the rock star factor with mixed textured and pair of chunky heels. Leather miniskirts can be a great pick when you are looking out a pleasing outfit for your fresher parties or prom nights.
The length of the skirt also plays a vital role.  If you are picking this attire for night- out parties or rock concert, then choose the one with above- the –knee hem. For a sassy and elegant look, you can pair up a below- the- knee length skirt with sweater.  Pairing it with right top can surely make you look outstanding in the crowd.
No doubt that every girl loves to make a massive styling impact among other onlookers, thus if you want to make your own fashioning statement then leather skirt teamed up with right attire at the top could be your pick.