Leather shorts are a very wise investment. With the right fashion sense you could wear them in every season.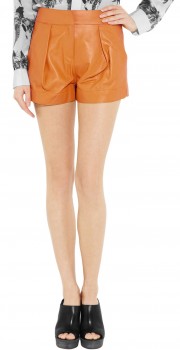 The days are not far when you would see brighter sunny days, smiling faces adorned in beautiful colors. Yes, the summers are fast approaching and so all fashion forward people are getting ready to fill up their wardrobe with the best of the fashion clothing and accessories. No one could miss buying a nice pair of shorts; after all it is the summer staple wear. Denim cutoffs – okay they are everyone's favorite but you would be flaunting in only denims this summer? It is so boring. Go and get yourself a nice pair of leather shorts. What the leather shorts offer – a perfect blend of style and comfort could never be offered by the denim.
You could select the long shorts or for more oomph factor you could also get the hot shorts. But remember do not get the leather shorts just only for fashion. You need to have that attitude and confidence that you could carry them off well. Leather shorts are so stylishly designed that it ups your style quotient instantly.  So if you are planning to adorn this stylish clothing keep the comfort factor in mind. If you are comfortable with the cutoffs get the leather cutoffs. Leather cutoffs are very comfortable to wear and you could feel the softness of leather on your skin. Ironically the leather is considered to be very tough.
If you are so much in love with your leather shorts you could wear them in the winters too. And yes you could look that same chic, smart and highly urbane in winters as in summers. In fact you could look hotter with the right fashion sense. Get a pair of leggings/jeggings in the same color and wear it with a nice biker jacket and short top. Wear a beanie cap and carry a chain leather bag. And here you are ready to roll many eyes.
The colors in which the leather shorts are available is many but still the safest bet is the black leather shorts. For the top well you could choose a chiffon top or a cotton top. If you are planning to wear the leather shorts during the night, a silk blouse would suit the occasion. If you want to style in more funky options, you could wear these shorts when you hit out for the beach. Just put it over your bikini. For a night out with friends just add a shimmering tube top. A casual date would require you wear a cotton racer back top. The most beautiful thing about leather is that it goes with every fabric; the leather shorts become the center point of attraction and so anything you wear with them looks good.