Leather capris are a great pick for showing off an outstanding fun going appeal.  However, there are certain rules that you need to consider before wearing this stylish piece.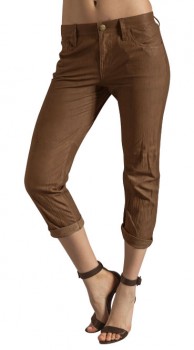 Leather capris look great on women; however, they often fall short on others. Picking up the right length and proper silhouette has a lot to do with how this classic pant looks. Here are some rules that you need to consider before pulling over this fun-going piece of clothing.
If you are short, the cut and the length of the capris should be your major lookout. Shorter women elongate their body frames to obtain the most slimming image. So, rule no one, never opt for a tapered Leather capris, as this will make you look even shorter
If you feel that, you have bigger hips, and then go for a boot cut or fuller cut capris that suit your body type.
You can have those straighter legs by wearing a classy pair of heels or stilettos. The heels help lengthen your legs by balancing your heels and at the same time will make you appear tall and gorgeous.
Another threat for shorter girls is the leather- cropped pants. However, it seems crisp and stylish, but the ankle cut pattern of this pant can make your lower half look shorter than they are normally.  It can just be a disaster if you fail to wear a pair of heels.
Well, for taller ladies, leather capris can be a great pick. They can carry off any type of Capri; whether tapered or cropped. This is because they have gorgeous long legs to harmonize their overall figure.
The bottom line leather capris are another amazing option women can opt.  They are one of the great alternatives to shorts, which are particularly difficult to wear in case if you are shorter than 5"2 or have bigger hips.
To give an overall appealing look with the stunning leather capris, make sure you add a stunning pair of footwear that complements your complete getup. A stylish pair of stilettos or striking wedges can just be an ideal choice for making a styling statement. Keep your accessories minimal, as leather alone can act magic when it comes to have a unique appeal.  Considering all these aspects, make most of your leather capris by standing confident and show off your persona in style.