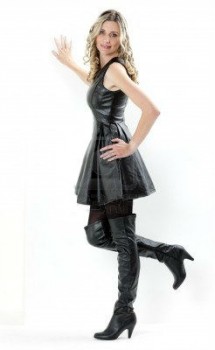 We have all seen the craze and hot fascination of leather trend in the form of super versatile dresses and body hugging pants and this has become every woman's "must have " fashion apparel.
There is no such refusing factor that genuine leather adds an instant edge to chic leather dresses. Leather in everything is considered to be extremely hot right now. This to a certain extent is true in the world of celebrity style. Pretty, stunning leather dress have all the time been making a style of statement in the fashion scenario and many of the Hollywood hotties like Cameron Diaz and Charlize Theron have all been spotted in this chic piece of leather dress.
Any woman can now have the same sassiness, feminine and a touch of glamour with a leather dress outfit. This one makes up for the most ideal outfit for a dinner date when you are damn confused on what to wear on this special occasion or a night party at your friend's place. On the other hand, this is not something or the kind of outfit which any woman, whether plus size or slim fit can pull off really well.
Picking the right style in order to suit that particular individual is a vital factor so as to make sure that she gets all the public attention for the right reason.
Leather is a genuine material which is not at all stretchy unlike spandex. As a result, it is vital to pick the proper clothing in the appropriate size as an ill fit dress will only leave you behind looking like a vamp! If you really want to buy a dress of your size then a wise thing to do is take the proper body measurements as this always helps and won't land you in trouble.
The fit must be proper but not too body hugging which leaves you with a problem to breathe. The only key to look uber sexy and sassy in a leather dress is to always go for a second fit.
Keep in mind to conceal all your flaws and put the accent on your beautiful assets. Numerous styles are offered for the wearer where these leather dresses are designed with keeping the comfort factor in mind. The various styles that you can choose are sleeveless, off the shoulder to name a few. So is why understanding the dress etiquette is equally important as it is to pick a leather dress.