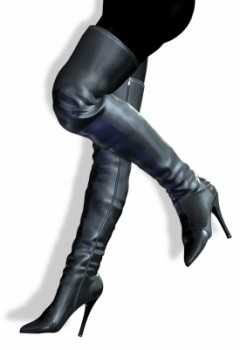 Over the years many Hollywood celebrities and fashion models have walked the ramps in over the knee and thigh high boots and have made a bold fashion statement.
Women these days are preferring boots which are thigh high or over the knee as they look trendier and creates a very bold fashion statement. Last fall, we saw models walking the ramp in boots which were over the knee and now this year they have crept higher and have reached the thigh. Julia Roberts even wore these shoes in her movie Pretty Woman long back but they are a craze among fashion forward woman today.
Genuine leather or suede is the first and most popular choice in these shoes. In genuine leather one could o for colors like matt black or brown. And if you are picking up shoes in suede leather go for grays, olive greens, or creams or even maroon. Make sure that you pair the shoes with appropriate dress, bags otherwise the effort to look good would go waste.
Here I have tried to jot down certain tips which are worth considering when you decide to wear them. But before I start I would let you know all that any girl irrespective of her height could carry these shoes well. The only thing lies in your choice of the accessories; it should go with your body type and should complement it well.
For a classic, dressy look pair the thigh high shoes with slim rounded tote bag.  Pairing up jeggings, leggings, stockings, thigh high socks in same color as of the shoes would help create that perfect look otherwise the things would look out of place. If you are thinking of pairing over the knee boots with a dress, make sure the hem of the dress is at least 3" inches above the boots.
For a more elongated and simple look, add a pair of tights in same color. For a great look tuck in pair of skinny jeans into the tops of your boots but make sure you have the confidence to carry them off as this pairing would draw everyone's attentions to your legs. Then the heel is the next important consideration. How good the boot may be but if you are not comfortable with the heels then instead of being trendy you would look more awkward.
Do not mind if you have to research for a perfect shoe for you. As we know no pains, no gains. So find the right boot which will look good on you and suits your personal style and taste. You could shop for them on the online stores and nay be you could get a steal deal for you.