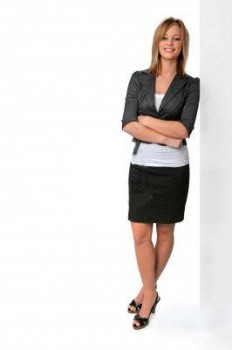 Investing in a good wardrobe staple is a must for a business woman. Make your strong presence felt professionally.
Choosing the right clothing for the profession you are in is very important. And for the woman who is running a business or is in a high position in office needs to maintain a powerful and professional wardrobe staple. You should be able to create an everlasting and a strong impression on your lower ones and gain the respect of the seniors and right clothing is a key to it.
The must have wardrobe staple for the business woman of today:
The first and foremost the BLACK DRESS: designed by Coco Chanel in 1920, this is a have to have a staple of every business woman's wardrobe. Keep the accessories to minimal just add a brooch or wear a colored pearl necklace, the look is complete.
A two piece Pant Suit/ Jacket Suit: they are a versatile piece of clothing which offers endless matching possibilities. Wear it with a blouse or a pull-over shirt. Though the black, navy blue, beige and shades of gray give a more professional look but these days the designers are coming up with pant suits which are fun and colorful.
Straight Skirt: Get a perfectly fitting skirt with clear lines and sharp cuts and you could wear them with anything. The length could go from knee or mid calf depending upon your body shape and height. The color of the skirt so chosen should well match the wardrobe color pallet to enable you match them properly with your business outfits.
Pants or Jeans: great for the weekends where you do not want that too formal look, the jeans and pants are a perfect addition. Select pants in bold colors and match them with a blouse or shirt in lighter colors. Pair your jeans or pants with jackets and get that not too formal look.
Jackets: once your wardrobe is full of thorough professional attire, get jackets which could be matched with pant suits or skirt suits. Make sure the jacket you pick fits you well. The shoulder should not be lying down. Also check that the jackets you wear should allow for easy movement of the arms.
Blouse/Tops: choose the basic whites, blacks for sure and also pick the one which matches your wardrobe color palette. Getting well fitted tops and blouse allow you to expand your wardrobe. So this is a smart and intelligent way to increase your wardrobe.
Shoes: Black pumps complement the professional attire very well. Go for pumps which have closed heel and toe. The height of the heel depends on your comfort level although 2 to 3 inches works best.
Accessories: as far as jewelry goes rely only on diamonds, platinum and pearls. They perfectly complement the business attire. Keep the accessories to minimal.
Remember that it matters a lot what you wear at the workplace. So invest wisely and build a good wardrobe. It is advisable to go for branded ones as they meet all the quality standards and look great. Do not mind spending a little more for building a corporate wardrobe.