If your leather bomber jacket is still hanging in the wardrobe for you not knowing the right way to style, this write-up, will help you in a big way.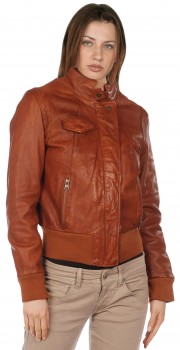 You might have purchased a leather bomber jacket inspired from your favorite Hollywood celebrity. However, now you do not know how to look stylish wearing the jacket. Take out your jacket from your closet and dress them in the ways listed below.
Wear your leather jacket over floral prints:   since, it is the spring and you could still feel the chill out, why not wear the jacket over the floral print pants. Add on a statement necklace in metallic beads and add a nice pair of black loafers to the ensemble. What to wear beneath the top? Well, wear a peplum top in stripes. Throw on your jacket over the outfit and get set go. If you want to carry a handbag, carry a long chained bag and also put on a cool pair of sunglasses.
Wear the jacket over your long maxi dress: the maxi dresses are quite beautiful and help you rediscover your true curvaceous figure and the hidden diva in you. Pick a grey and black striped maxi dress and wear it over high-heeled booties. Add a black cross body satchel and pop on the bomber jacket. The look might look monotonous. To break of this monotony, why not add an emerald green necklace. After all, it is the pantone color of the year 2013.
Wear the jacket over your denim shorts: it is neither too hot, nor to cold out there. However, still one could feel the chill out. But, you cannot be all covered up. So why not cover up the top with the bomber jacket and show off your well-toned legs in an acid wash denim shorts. Top up with a printed or a message tee and complete the ensemble with a nice colorful pair of earrings. And well, for the shoes, how about wedges in black and white.
We are sure that you might be inspired with the above styles and are surely going to try out some or all of them. So, no more hanging your leather bomber jacket in the wardrobe. Dress it up, pull it off in style, and get all the eyeballs rolling.
If you have any difficulty finding a perfect fit in the jacket, visit our online store where you will find plethora of styles. You could even ask for a made-to-fit leather jacket. All you have to do is to submit your measurement details and wait for the jacket to be delivered right at your doorsteps.