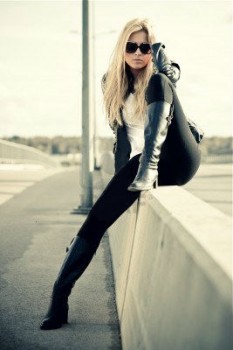 Are you planning to buy smoking hot leather boots? Indeed, it is a great idea to complement your outfits with them!
Leather boots or shoes truly make a bold style statement. They speak all about style, elegance and class. Flat leather shoes especially give out a lasting impression for a woman and make her appear fashionable, sassy and chic at the same time. In addition, you do not need compromising on the comfort factor when it comes to flat boots and they are must if you are leather fanatic and own tons of leather outfits. This is the reason for their immense popularity amongst women all around the world.
Colors and Styles:
When buying flat leather boots, you get tons of options in terms of colors and styles. You may go for the knee high, mid calf and ankle length shoes. The choice of your boot depends on the clothing on which you intend to wear them. Thus, you get these boots with laces, buckles and zippers. Talking about colors, you get loads of colors such as brown, black, army green, etc. Therefore, there is no shortage of choices when it comes to leather shoes.
Apt Fit:
Always go for the one, which fits you cozily. Try out several boots and purchase a pair that is easy on your legs, ankles and toes as well as fits aptly and should not be too loose.     
Accessories and Outfits:
Thigh high boots go well with those stunning mini leather dresses and skirts. Short dresses bring the entire focus on the thigh high boots as well as your legs. During winters, go for a layered look with a cool mini skirt paired with nice tights or leggings and flat over-the-knee leather boots, a skintight blouse or jacket on top to make a trendy and stylish statement.
Thigh high socks are the perfect accessories to complement these shoes. These socks have become a rage these days and you can get them in various colors such as yellow, red, purple, orange and fuchsia. Pair up this combo with a mini skirt, a cardigan to get that awesome wintery look.
Talking about ankle high boots, skinny jeans complement well here. Tuck the jeans into your boots. Further, consider pairing them up with a cool leather jacket along with a vest to get that free flowing look. Sleeved and tunic tops too blend well with skinny jeans and these shoes.
As you know that flat leather boots speak mostly about classiness, ensure that the fashion accessories you complement them with are classy too. The jackets and handbag ought to be of leather and must blend well with the color of your boots. These boots are a kind of boon for all those stylish women of the modern era.