The Fashion of Prints is Back
Be it a young college going girl or a woman, Hollywood celebs just loves to sport their print fashion to the people around.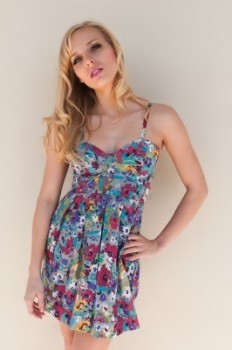 Well when it comes to prints, the size of the individual and the size of the print must be considered too only to find what looks good on you and what not. Women who know their body type or those who know what suits them well must be very conscious in choosing prints. Petite women can pull off this trend very well. For women with full figures, they must be careful as large / extensive prints can make you look bigger than your body frame. Given below are a few fashion tips on how prints can be worn in a more trendy way without making a fashion faux pas. The first fashion rule is to keep it simple and sober. Pull off a color, which could be either dark or bright, be it your top or bottom. Choose one color at a time and do not make the mistake of trying too many prints. You can try the mix and match combo which can help in pulling off the ensemble altogether. Always choose fitted prints. Large prints on a tall framed woman might look very flowy and draping pieces on your body will only make you look like a tented house. Well, this does not even mean that your printed stuff must be body hugging. An over-sized printed blouse can be fixed with a belt around the waist and a pair of leggings. This is simple yet a proper quickie. Matching accessories with your outfit. To complete the look, yes accessories are essential as this not only finish the look properly but enhances too. If you pick a multi colored print then accentuate it with a hand purse or shoes in any single color. The look is trendy and does not really blow much away of your money. Coordinate print styles. If you really want to go deep with prints, an African or tribal print is a nice pick for women who wish to go bold on the other side. There is much more you can add to this kind of print theme. Go simple instead of adding more to this. A floral dress too is what you can consider wearing by matching it with a scarf and trendy pair of boots. Here were a few suggestions on wearing prints.